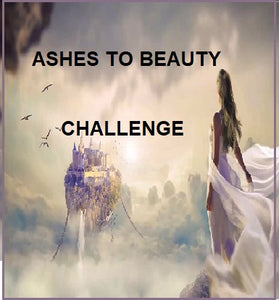 CHALLENGE BASED ON BOOK SERIES
BUY YOUR BOOK AT ANY ONLINE RETAIL STORES
ONCE YOU REGISTERED  FOR THIS CHALLENGE
YOU WILL GET YOUR BOOK IN DIGITAL FORMAT
YOU CAN ALSO BUY BOOK IN PAPERBACK OR HARDCOVER
WHEN YOU PURCHASE THIS YOU GET ACCESS TO YOUR CHALLENGE
COMPLETE ALL LESSONS AND EARN A BADGE / OR CERTIFICATE
WITH BONUSES
WHAT IS IN THE CHALLENGE :
YOU GET THE BOOKS " HEALING THE SOUL OF A WOMAN THE STORY OF RUTH" " THE STORY OF GRACE" DIGITALLY - YOU CAN USE IT FOR NOTES  ( ANY OTHER BOOKS WILL BE SOLD SEPARATELY)
(SUGGEST GETTING PAPERBACK OR HARDCOVER )
INTRODUCTION FROM DR. TRACI K
7 LESSONS 7 SESSIONS 
PLUS GIFTS AND BONUS MATERIAL 
THE LESSONS ARE IN VIDEO FORMAT EASY SELF PACE ON YOUR TIME.
PLUS LEARN ABOUT THE HEAVENLY CROWNS
HOW DOES IT BENEFIT ME DOING THIS CHALLENGE:
SOUL HEALING AND PATH FORWARD APPROACH IN LIFE
HOW TO THRIVE IN THESE TIMES AS A WOMAN
HOW TO BE ELEGANT
HOW TO SHIFT ENERGY FOR TURNING ASHES INTO BEAUTY
HOW TO REPEL NEGATIVE ENERGY
HOW TO DEAL WITH DIFFICULT PEOPLE
HOW TO  CHOSE JOY AND START A SPIRITUAL PRACTICE
HOW TO EARN AND USE THE CROWNS OF HEAVEN
HOW TO FIND YOUR INNER GODDESS 
HOW TO BE A BUILDER
MEDITATIONS AND EVERYTHING IN THE BOOK FOR SPIRITUAL STUDIES.  
INVITE TO JOIN THE PRIVATE BOOK CLUB/ DISCUSSION GROUP
FOR EVERYONE THAT COMPLETES CAN SEND US THEIR PHOTO WITH WEARING THEIR CROWN AND HOLDING THEIR CERTIFICATE SO WE CAN SHOW YOU OFF.
FINALLY:  EARNING A CROWNED BADGE AND/OR CERTIFICATE CAN BE USED ON YOUR WEBSITE OR FRAME IT.  IT IS ACCREDITED. AND PICK THE CROWN OF YOUR CHOOSING TO BE SENT TO YOU FREE WITH THE " HEAVENLY CROWNS BOOK"  OR BUY THEM SEPARATLY IF NOT DOING THE CHALLENGE CHECK OUT THE CROWNS
MEDICAL DISCLAIMER: WHEN STARTING ANY ALTERNATIVE OR ENERGY MEDICINE PRACTICES IT IS BEST TO GET A CHECKUP , & CONSULT WITH A METAPHYSICIAN. THIS IS NOT IN ANY MATTER TO DIAGNOSE OR TREAT.  AT YOUR OWN RISK.