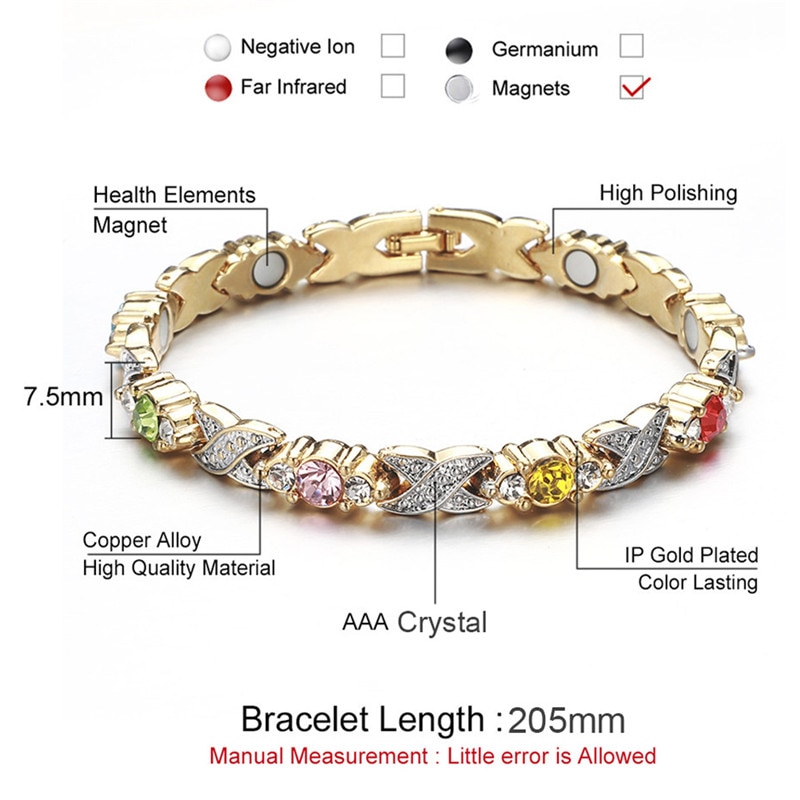 HOT TRENDY POPULAR PRODUCT TOP SALES
***NOW MORE STYLES TO CHOOSE FROM
Item Type: Bracelets
Clasp Type: MAGNET
Compatibility: All Compatible
Shape\pattern: Round
Model Number: D4Z200
Setting Type: Tension Setting
Fine or Fashion: Fashion
Style: Casual/Sporty
Function: Mood Tracker
Product: Bracelet,Bangle
Color: Solid
Shape: Round
Feature: High quality

1.Improves Metabolism & Blood Circulation: This Negative Ion And Germanium improves metabolism and blood circulation promoting fast and healthy weight loss . ( results vary)
2.Helps Manage Weight During Menopause: During Menopause, Your Serotonin Levels Naturally Decline Which Can Result in Feelings Of Hunger And A Less Efficient Metabolism.
3.Complete Menopause Relief: This All-in-one Magnetic Formula Reduces Hot Flashes & Night Sweats, Supports Restful Sleep, Boosts Energy, Helps To Manage Daily Stress, Mood, Irritability And Menopause Related Anxiety.
4, Men and Women who have worn magnetic therapy bracelets notice pain relief and better performance.
FYI-  THESE ARE POPULAR ITEMS AND SOMETIMES GET BACK ORDERS SO ALLOW UP TO 4 WEEKS TO RECEIVE.  BUT WE STRIVE TO GET THE ITEMS TO YOU FAST. MEDICAL DISCLAIMER: RESULTS MAY VARY AND TKBF IS NOT LIABLE AND ALWAYS CONSULT A HEALTH PROVIDER BEFORE TRYING ALTERNATIVE METHODS.  
RECOMMEND WORKING WITH A METAPHYSICIAN TO LEARN HO TO USE YOUR ITEM WITH SESSIONS.  
also sign up for upcoming events...
THE 21 DAY MEDITATION CHALLENGE FOR WEIGHT LOSS 
ALSO CHECK OUT UPCOMING MIGHTY MENOPAUSE WEBSERIES-
Learn Energy Medicine exercises from Dr. Traci K just subscribe to keep informed when it starts.
Recommendations :
SHOP ALL WELLNESS PRODUCTS NEW!!!
medical disclaimer:  at your own risk results vary per individual.  Take care of your bracelet never wear it while cleaning or puting on lotions to protect its healing elements. We are not responsible for damages or tarnishing caused.
Bracelets Type:Chain & Link Bracelets
 
 FYI-  WHEN YOU RECEIVE THESE BRACELETS PLEASE TAKE CARE OF THEM DO NOT WEAR WHEN CLEANING PUTTING LOTION ON IT COULD DAMAGE THE CONTENT OF THE ITEM AND DISCOLOR LOSING ITS HEALING PROPERTIES.  A METAPHYSICIAN CAN HELP YOU.  CLEANSE IT CLEAR IT AND MEDITATE OVER IT " CLAIM IT"  to set intentions and activate its energy.  Suggestion use jewelry protection solution or clear nail polish to hold precious metals and stones from being damage.  It does come with a cleaning cloth,    We are not responsible for any damage or tarnishing.  To protect from tarnishing the healing elements 
Q & A Do they really work?
Yes , always say you have to Believe To Achieve but you should always start a healthy plan towards your goal to change.  But wearing this could remind you also.   learn more about magnetic therapy 
But here is some actual studies.  Magnetic therapy enjoyed a resurgence in the 1970s with Albert Roy Davis, PhD, who studied the different effects that positive and negative charges have on human biology. Davis claimed that magnetic energy could kill malignant cells, relieve arthritis pain, and even treat infertility. Another study was done where 194 patients were split and group A wore a placebo type bracelet and Group B wore actual magnetic bracelets. After 12 weeks Group A didn't see much result with pain relief , stress or weight loss.  Group B received great relief of pain and even some lost weight and slept better.  
HOW DOES IT WORK?
It is said that the cells within the body produce magnetic field to transmit electromagnetic signals. Every cell is said to behave like a magnet that helps to move electrical impulses from one nerve cell to another. Proponents of magnetic therapy claim that disturbances in magnetic field is the primary reason behind the onset of chronic diseases. As magnetic bracelets also generate magnetic field, wearing them may help to correct the fluctuations in electromagnetic energy. Thus, magnetic bracelets can act as a healing aid and improve the condition.
DO I WEAR MY BRACELET ALL THE TIME?
No, you do not need to wear magnetic therapy jewelry 24 hours per day. It is sufficient to wear it during the daytime or evening. Some users choose not to wear magnetic bracelets while they sleep at night.
HOW LONG DO I NEED TO WEAR IT TO SEE RESULTS?
The rule of thumb has always been around two weeks. However, we have had many customers report that they started to see results in under 24 hours! As we continue to push our magnetic therapy technology to new heights, we find ways to make more powerful magnetic bracelets to improve the strength and effectiveness. Please keep in mind that you will not feel any results instantly and that it is normal for the benefits of magnetic bracelets to take a few days as the body adjusts to the device. RESULTS VARY
 WHICH ARM SHOULD I WEAR IT ON?
You can wear it on either arm.  If you have pain or need support on one side wear it on that side.  Customers have had increase results wearing more that one and on each arm.  It can also be combined with other healing type bracelets.
HOW TO CARE FOR YOUR BRACELET.
This bracelet has a thin protective coating for the healing elements.  You must care for your item it is not a toy.  The best way to care for is always wipe with polishing cloth.  Keep it in a jewelry tote with a piece of chalk replace it so often placeitem in a plastic bag to keep any outside energies infecting it.  remember this item was handle and shipped so you need to prepare your item for your intentions.  These will help prevent any tarnish.